Boulder is a city in Colorado that is near the foothills of the Rocky Mountains. Boulder is known for its outdoor activities and vibrant urban life. Boulder is a booming economy and is home to the University of Colorado (Boulder campus).
There are many attractions and things to do in Boulder. There are hundreds of miles of hiking and biking trails around the city. There are also ski resorts near Boulder due to the city's location in the mountains. Boulder offers a wide variety of restaurants from local to international cuisines. The downtown has a wide variety of art galleries and shops to explore. Boulder is a popular spot for tourism and events, so there are many floral arrangements Bouquets has to offer for all those. Bouquets, a LoDo Florist has a long-standing relationship with the residents of Boulder with same-day flower delivery. Furthermore, Bouquets delivers exotic floral designs and custom flower designs to schools, hotels, businesses, hospitals, and funeral homes in Boulder.

We have a long-standing relationship with residents and businesses in Boulder since fresh flowers accent every location and with every occasion. From celebrating birthdays and anniversaries with flowers, Bouquets helps celebrate Valentine's Day and Mother's Day with flowers and same-day flower delivery. Our expertise in making every event memorable with unique and custom-designed floral arrangements brings joy and happiness.
Businesses in Boulder can benefit from our floral subscription service to receive plants and flowers on a periodic basis. In addition to our event flowers and subscription flower business we encourage our Custom design services for wedding flowers, sympathy flowers, funeral flowers, birthday flowers, get well flowers, anniversary flowers, new baby flowers, and more.
We take pride in our work and can send a pre-delivery picture with flower delivery to Boulder. We also send pictures when the flowers are delivered.
6" succulent Plant in contemporary container. Place the succulent in a brightly lit location but avoid direct sun which can scorch the plants inside. An area near a fan or blower is ideal, as this will increase circulation and help prevent damping off. Succulents can't stand to be overwatered and if they are in standing water they will surely die. Your succulent garden won't need to be watered very often. Wait until the soil is nearly completely dry before you water. Read more at Gardening Know How: Succulent Terrarium Care: How To Make A Succulent Terrarium And Care For It https://www.gardeningknowhow.com/ornamental/cacti-succulents/scgen/succulent-terrarium-care.htm
$49.99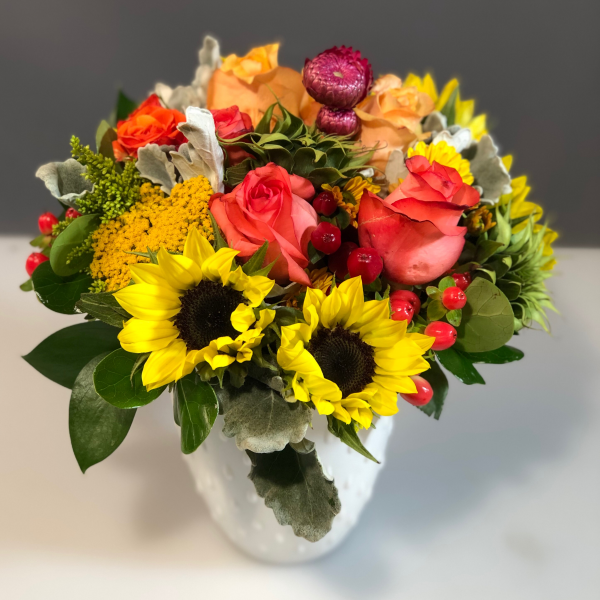 This compact bouquet is perfect for any coffee table or sideboard. Seasonal and bright, the colors will vary depending on what our growers are offering.
$59.99