Denver is the capital city of Colorado. Denver is known for its ski resorts and history museums. Denver has a blend of 19th century and modern architecture. Denver is a hub in Colorado for industry and tourism. Denver is known as the "mile high city" as it has an elevation of over 5,000 feet. Denver has a spread out feel and is sunny almost year-round. The city has great scenery and many spots for hiking and biking. Denver has many flower arrangements to offer for special events such as weddings, birthdays, or anniversaries.
Bouquets, a LoDo Florist has a long-standing relationship with the residents of Denver with same-day flower delivery. Furthermore, Bouquets delivers exotic floral designs and custom flower designs to schools, hotels, businesses, hospitals, and funeral homes in Denver.
We have a long-standing relationship with residents and businesses in Denver since fresh flowers accent every location and with every occasion. From celebrating birthdays and anniversaries with flowers, Bouquets helps celebrate Valentine's Day and Mother's Day with flowers and same-day flower delivery. Our expertise in making every event memorable with unique and custom-designed floral arrangements brings joy and happiness.
Businesses in Denver can benefit from our floral subscription service to receive plants and flowers on a periodic basis. In addition to our event flowers and subscription flower business we encourage our Custom design services for wedding flowers, sympathy flowers, funeral flowers, birthday flowers, get well flowers, anniversary flowers, new baby flowers, and more.
We take pride in our work and can send a pre-delivery picture with flower delivery to Denver. We also send pictures when the flowers are delivered.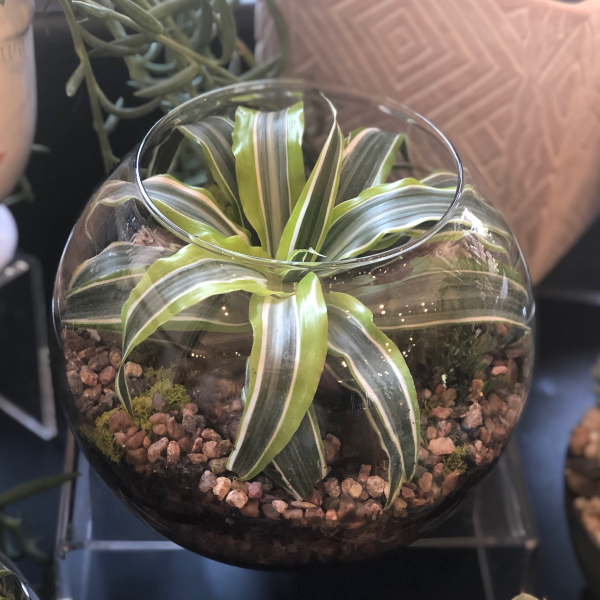 8" bubble bowl Terrarium. These hardy house plants will live with minimal care in their own habitat. Each ecosystem is balanced for a long life and does not need direct sun and can live in offices or homes alike. Allow the top inch or so of the soil to go dry between watering, and water at the base of each plant using your watering can or spray bottle. Between watering, feel free to give your terrarium a spritz from a mister to promote a humid environment.
$49.99
Extraordinarily bright and generous arrangement of fresh Sunflowers.
$179.99